Barakat Bundle
Rhizome took on the project to design a folding bamboo cradle, for Barakat Bundle—a non-profit supported by Harvard's incubator program, focusing on infant and maternal health in South Asia. The bamboo folding cradle and sensory toy for base-of-the-pyramid infants we developed, earned significant recognition and accolades.
Barakat: Life-Saving Care
Barakat Bundle's mission is to work with local communities to create life-saving care and education bundles for mothers and newborns in need. When Barkat Bundle came to us, they described how economically-poor mothers in the global south had to return home just after their deliveries, because their families could not afford maternal or infant child care for an extended period. Often, these women would return home on the back of bikes, holding onto their newborns, which made it almost impossible for them to carry home any support the government or NGOs were prepared to give them—even if these were free of cost. Based on these discussions with Barakat Bundle's team of grassroot workers, we arrived at the brief of creating a foldable bamboo cradle to help prevent Sudden Infant Death Syndrome (SIDS).
The lightweight structure and three-point-operation, yet intuitive folding system were carefully designed, ensuring that the cradle could be conveniently carried on a two-wheeler or public transport, providing new mothers with practical and accessible solutions for their journey. We also designed a stimulating sensory toy for newborns, enhancing the impact and effectiveness of the project in promoting child development and well-being. Lastly, we decided that the fabric portion of the cradle could be used to contain essential maternal medical and care items, and also a health education calendar.
Rationale and Initial Explorations
Barkat Bundle drew inspiration from the Finnish Baby Box, a program in Finland that offers families, irrespective of their income, a box filled with essential supplies for newborns. Notably, the box can also serve as a bassinet, providing a convenient and practical solution for new parents.
By employing human-centered design, the Barakat Bundle team engaged in 100 focus group interviews spanning 2 years in rural Gujarat, India. These comprehensive interviews included mothers, fathers, extended families, and community health workers to ensure that all items in the Barakat Bundle were not only practical but also culturally relevant, effectively catering to the needs of the community. Rhizome worked closely with the feedback of the Barakat Bundle local extension team to incorporate it into iterations of the product during its development.
Folding Bamboo Cradle Design
After multiple iterations, renders of the final design were created and discussed with the team at Barkat Bundle. The aim was to keep the design simple, cost-effective, and functional. Each potential iteration was prototyped by the Rhizome team in Ahmedabad, and trialled with the users and healthcare experts. Every aspect of the cradle and sensory toy was meticulously crafted to meet the highest international safety standards and guidelines. The final design was tested in a specialised testing facility to ensure the cradle was completely safe and reliable for infants across the world.
Flat-Pack Bamboo Cradle Designed for the Barkat Bundle
This lightweight bamboo cradle, developed by Rhizome for the Barkat Bundle is portable and can be moved around easily. It offers a 360-degree view of the baby, facilitated by a highly breathable mesh that promotes optimal airflow. The size of the holes in the mesh are carefully curated to ensure maximum visibility alongside meeting safety norms of the infant's range of movement within the cradle. The removable and waterproof mattress ensures easy cleaning. Additionally, the cradle comes with a detachable mesh cover to shield babies from malaria-carrying mosquitoes, addressing one of the leading causes of child mortality globally for children under 5 years old.
Livelihood Generation and Ecological Sustainability
The project aimed at achieving a dual purpose: crafting a bamboo cradle that not only addressed social sustainability for the end-user, but also because it generated livelihood opportunities for underprivileged producers.
Bamboo, chosen for its ecological sustainability as it is extremely renewable, and also for its lightweight properties, served as the ideal material. To foster inclusivity, the design of the textile component was carefully created to allow women producers to participate and earn from the value-chain, thus creating a positive impact on both the environment and the community.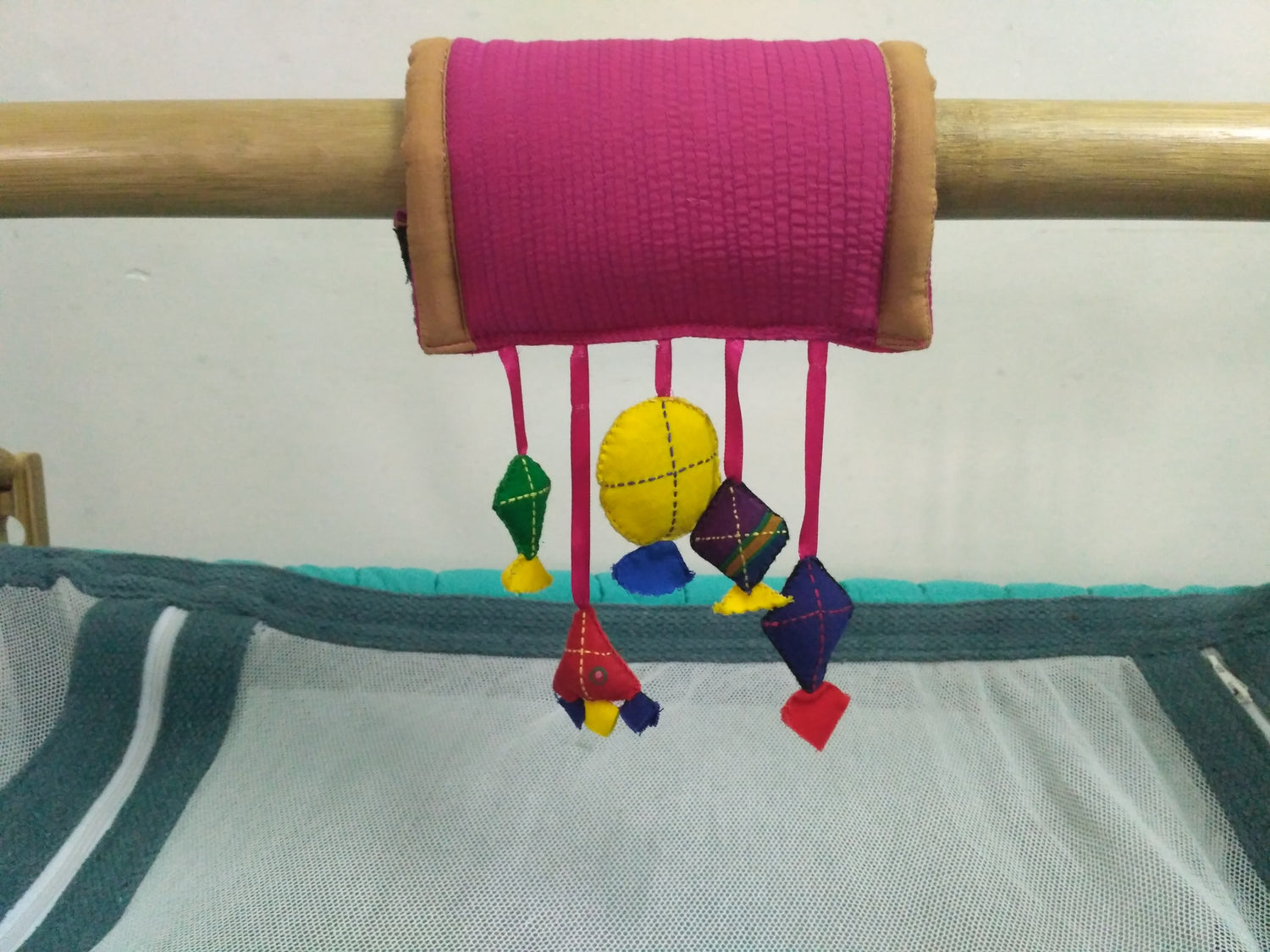 Handcrafted Sensory Toy
The sensory toy's design was meticulously tailored to the needs of Indian BoP infants, taking into account their learning milestones and behavior patterns. The high-contrast colours stimulate a baby's sense of sight because at birth infants cannot see colours clearly and navigate through visual contrast. The fabric's soft and tactile nature engages the child's sense of touch, encouraging exploration and sensory learning.
The Rhizome team ensured it could be easily produced by women with sewing skills, promoting livelihood opportunities. Additionally, the toy's washable feature simplified maintenance for caregivers.
Taking an environmentally conscious approach, the toy ingeniously repurposed textile scraps, addressing waste management while creating a sustainable material cycle. The thoughtful design of kites and a firki, familiar symbols in the users' backgrounds, added a touch of cultural relatability, enhancing the toy's appeal and fostering a sense of connection with the product.
Recognition and Accolades
Rhizome collaborated closely with the Barakat Bundle team throughout the design and testing process, both in the field and labs. The final design was a product of their collective efforts, fostering effective feedback mechanisms and ensuring that all stakeholders' perspectives were incorporated. This inclusive approach led to a successful and impactful outcome, benefiting the communities they aimed to serve.
Backed by Harvard's incubator program, this project garnered remarkable acclaim from various global platforms, including Johnson & Johnson, MassChallenge, Halcyon Incubator, LinkedIn For Good, and numerous others. The recognition received was a testament to the project's ingenuity, impact, and the dedicated efforts of the entire team.
Get in touch with us now!
Do you have a project you think we might be perfect for? Is there an idea or a query that you want to discuss with us? Email us at info.rhizome@gmail.com or rohityagi@gmail.com, and our team will come back to you. Let's get together and bring your design dreams to life.